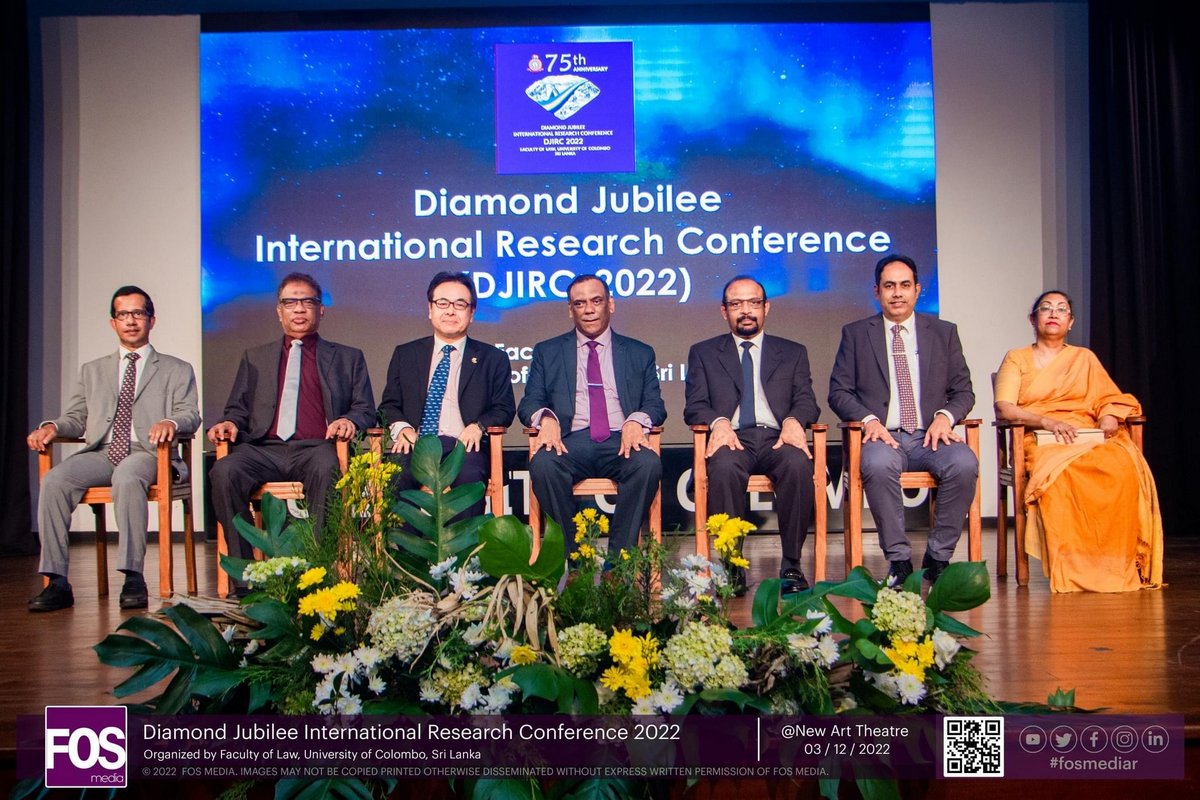 DJIRC -2022
Diamond Jubilee International Research Conference 2022
Faculty of Law - University of Colombo
The Faculty of Law, University of Colombo, Sri Lanka successfully held the 'Diamond Jubilee International Research Conference' (DJIRC) 2022 on the 3rd and 4th December 2022, in hybrid mode, to commemorate the 75th anniversary of the Faculty. Indeed, this conference is the flagship event of the year-long Diamond Jubilee celebrations of the Faculty. The DJIRC 2022 was held under the theme- "Digital Transformation and Innovative Approaches in Mitigating Challenges: A Global Agenda for Legal Education, Research and Reforms". As the very theme suggests, the aim of this conference was to explore how digital transformation and innovative approaches to mitigating challenges would bolster legal education, legal research and law reforms in Sri Lanka.
The inauguration ceremony of DJIRC 2022 was held on a grand scale on 3rd December 2022. His Excellency Mr. Mizukoshi Hideaki, Ambassador of Japan to Sri Lanka graced the occasion as the Chief Guest and Keynote Speaker. Moreover, the Senior Professor (Chair) Dr. H.D. Karunaratne, Vice Chancellor, University of Colombo attended the event as the Guest of Honour. Prof. Srilal Perera, Adjunct Professor of Law, University of Miami, School of Law, Florida, United States, who delivered a very impressive plenary speech on this memorable day added splendour to the event. Furthermore, during this ceremonious occasion, several journal publications of the Faculty of Law including the Colombo Law Review – Volumes 14 and 15 and the Sri Lanka Journal of International Law -Volume 28 were launched.
The two-day conference consisted of eighteen technical sessions held under six tracks including International Law, Public Law, Private and Comparative Law, Commercial Law and General and Interdisciplinary Studies. Many academics, practitioners, legal researchers and postgraduate students presented their research papers whilst the eminent members of the legal academia, legal professionals, members of the judiciary, and policymakers provided their valuable insights as the panellists.
This successful conference was held under the guidance of Professor (Dr.) N.S. Punchihewa, Dean Faculty of Law and Chair Professor Wasantha Seneviratne- the Conference Chair.  This conference would not have been a success without their exceptional commitment and unceasing dedication. DJIRC 2022 which provided a fantastic opportunity for both virtual and in-person attendees to present their cutting-edge legal research and to network with a wide range of like-minded professionals in the legal field definitely marked a significant milestone in the history of the Faculty of Law.