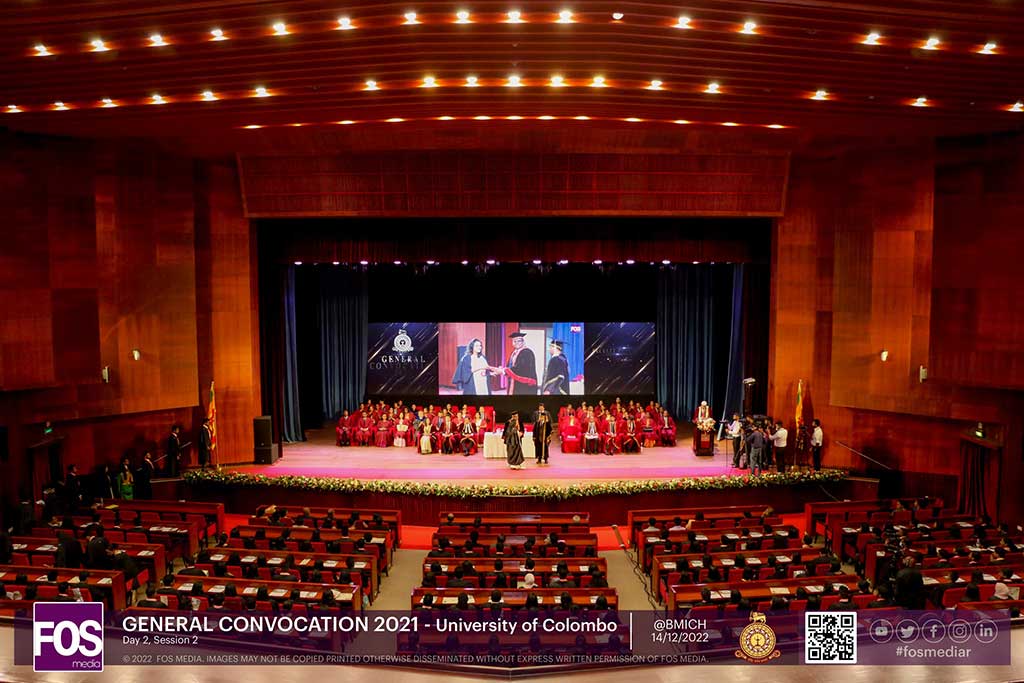 General Convocation 2021 – Faculty of Law, University of Colombo
The Faculty of Law of the University of Colombo – the premier seat of legal education in the country and the highest ranked university in Sri Lanka – had its General Convocation for graduands passing out in the year 2021 on 14 December 2022 at the Bandaranayake International Memorial Conference Hall.
The ceremony was a colorful, well-attended and highly celebrated event which marked one of the most memorable days in the graduates' lives. The event was attended by the Dean of the Faculty of Law, Prof. (Dr.) Nishantha Sampath Punchihewa and by many academics of the three Departments of the Faculty of Law. Around 250 undergraduate students were awarded the Degree of Bachelor of Laws at the ceremony whilst many awards and prices were also handed out to undergraduates who excelled at their studies as well as students who showed all-around merit during their four years of stay at the Faculty.
The following students of the faculty were awarded Gold Medals and Prizes for their outstanding performances:
Justice V.M. Fernando Memorial Prize for Constitu犀利士
tional Law I
Chief Justice H.N.G. Fernando Memorial Prize for Constitutional Law II
Justice C.G. Weeramantry Prize for Public International Law
Julius & Creasy Prize for Tax Law
Walter and Judith Pinto Memorial Gold Medal for Public International Law
The Visuvalingam & Rajakunam Buvanasundaram Memorial Gold Medal for Bachelor of Laws, Year IV
K. Shinya Prize in Laws
Sir Ponnambalam Arunachalam Memorial Prize
N. Selvakkumarn Award for Jurisprudence
Kanaganayagam Kanag – Isvaran Prize for Company Law
Dr. Wickrema Weerasooria Gold Medal for Best Performance in Business Law
N. Selvakkumaran Award for the Most Outstanding Student of the Faculty of Law