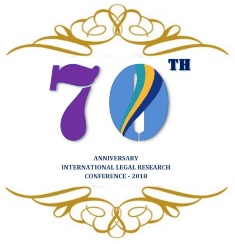 International Legal Research Conference (ILRC) 2018
The International Legal Research Conference (ILRC) 2018, organized by the Faculty of Law, University of Colombo was held on the 16th and 17th of November 2018 at Mirage Hotel, Colombo-06. The Conference that coincided the 70th Anniversary of the Faculty of Law, was themed 'Rethinking Law: Loss Ignorance or Innocence?"
The ILRC was inaugurated in the morning of 16th November with the participation of distinguished legal scholars from Sri Lanka and abroad, and other invitees in the field of law. The Keynote address was delivered by the former Chief Justice of India, Hon. Justice Dipak Misra, while Mr. Jayantha Jayasuria, the Hon. Attorney General of Sri Lanka graced the occasion as the Chief Guest. The Conference consisted of multiple plenary and technical sessions that closely explored general themes such as international law, constitutional law, labor law, property law, family law, gender justice, law of delict and tort, commercial law, legal profession and legal education.
The ILRC has drawn experts and participants from countries such as India, Bangladesh, South Africa, the United Kingdom and the United States of America, and provided a platform for exchange of research and engagement of local and foreign experts in the legal field.
The Faculty of Law has pioneered in the legal education in Sri Lanka, training and producing legal luminaries of a wide spectrum, and marked yet another significant milestone in the Faculty's tradition of legal research and innovation with the successful closing of the Conference.
Appreciation and commendations generously showered by the local and foreign participants and invitees of the Conference stand not only to testify the success of the event and its high academic quality, but also remain as an encouragement for the Faculty to continue its teaching and research with much rigor and hope in the future as well.