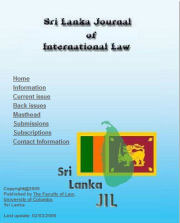 Sri Lanka journal of International Law – Call for Papers 2017
The Editorial Board calls for submissions of articles to be published in the Sri Lanka Journal of International Law (SLJIL). The SLJIL plans to publish two issues of the journal per year.
The deadlines for receiving completed articles for the upcoming volumes:
SLJIL 2017 1. – Deadline March 31st 2017
SLJIL 2017 2. – Deadline July 31st 2017
Please contact the publishers for further information.