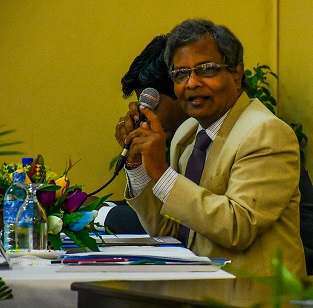 Special Guest Lecture on "Computer Crimes"
This special lecture which discussed the law relating to computer crimes was conducted by Mr. N. Selvakkumaran, a Senior Lecturer at the University of Colombo. Mr. Selvakkumaran is also a former Dean of the Faculty of Law and Senior Legal Advisor of the University of Colombo. The  session was organized by the Department of Public and International Law of the Faculty of Law University of Colombo, on 6th June 2018 at the Ceylon Hall.
IT related issues have aggravated with the developments in technology. Hence the significance of the lecture was manifold as the students were made aware of the IT related issues that might arise during their day- to-day activities. And at the same time students were educated on how to tackle any such issue via internet as well as through any technological device. Mr. Selvakkumaran focused his lecture on the Computer Crimes Act in Sri Lanka and assessed its  practical application. Therefore, expertise of the lecturer exposed students to the nuances of IT field and provided students with knowledge on computer crimes, which is part of Criminal Law.