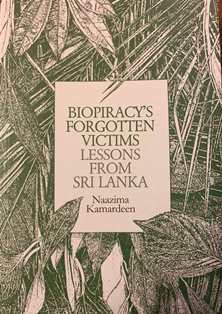 BOOK LAUNCH BY LAW FACULTY STAFF MEMBER
Prof. Naazima Kamardeen, attached to the Department of Commercial Law in the Faculty of Law, launched her books titled "Bio-piracy's Forgotten Victims: Lessons from Sri Lanka" and the Sinhala translation of "Global Trade and Sri Lanka: Which Way Forward?" at the University of Colombo on the 2nd July 2019, amidst a large and distinguished gathering representing academia and the legal community. The Chief Guest at the event was Mr. Jagath Gunawardana, attorney-at-law and environmental scientist.  Senior Professor Chandrika Wijeyaratne the Vice-Chancellor, Senior Professor Lakshman Dissanayake, the former Vice-Chancellor, Prof. Indira Nanayakkara, Dean, Faculty of Law and Prof. Shanthi Segarajasingham, Head, Department of Commercial Law, also made speeches at the launch, which was attended by members of the Official and Unofficial Bar, Deans of faculties, Heads of Departments, and senior academics and policymakers.
This event also saw the launch of the Sinhala translation of her 2016 work "Global Trade and Sri Lanka: Which Way Forward?". The translation was done by Ms.  Pramodha Vithanage, of the Department of Commercial Law.
Prof. Kamardeen is the Director of the course in International Trade Law, which is a subject taught exclusively in the Master of Laws programme at the Faculty of Law of the University of Colombo. She also teaches Environmental Law and Intellectual Property Law for the LLM Programme
She obtained her Bachelor's Degree in Law from the University of Colombo and proceeded to Georgetown University USA as a Fulbright Junior Scholar, where she completed the Master of Laws Degree in International Legal Studies, focusing on the areas of WTO, Trade and Intellectual Property. She subsequently completed her Doctoral Studies at the University of Colombo, specialising in the impact of the WTO on the collective rights to traditional knowledge. She is also an Attorney-at-Law of the Supreme Court of Sri Lanka. She has published widely in a number of areas, including intellectual property law, WTO law, environmental law and trade and investment law.
The books are published by Stamford Lake and will be available at Lake House and Sarasavi bookshops island wide.