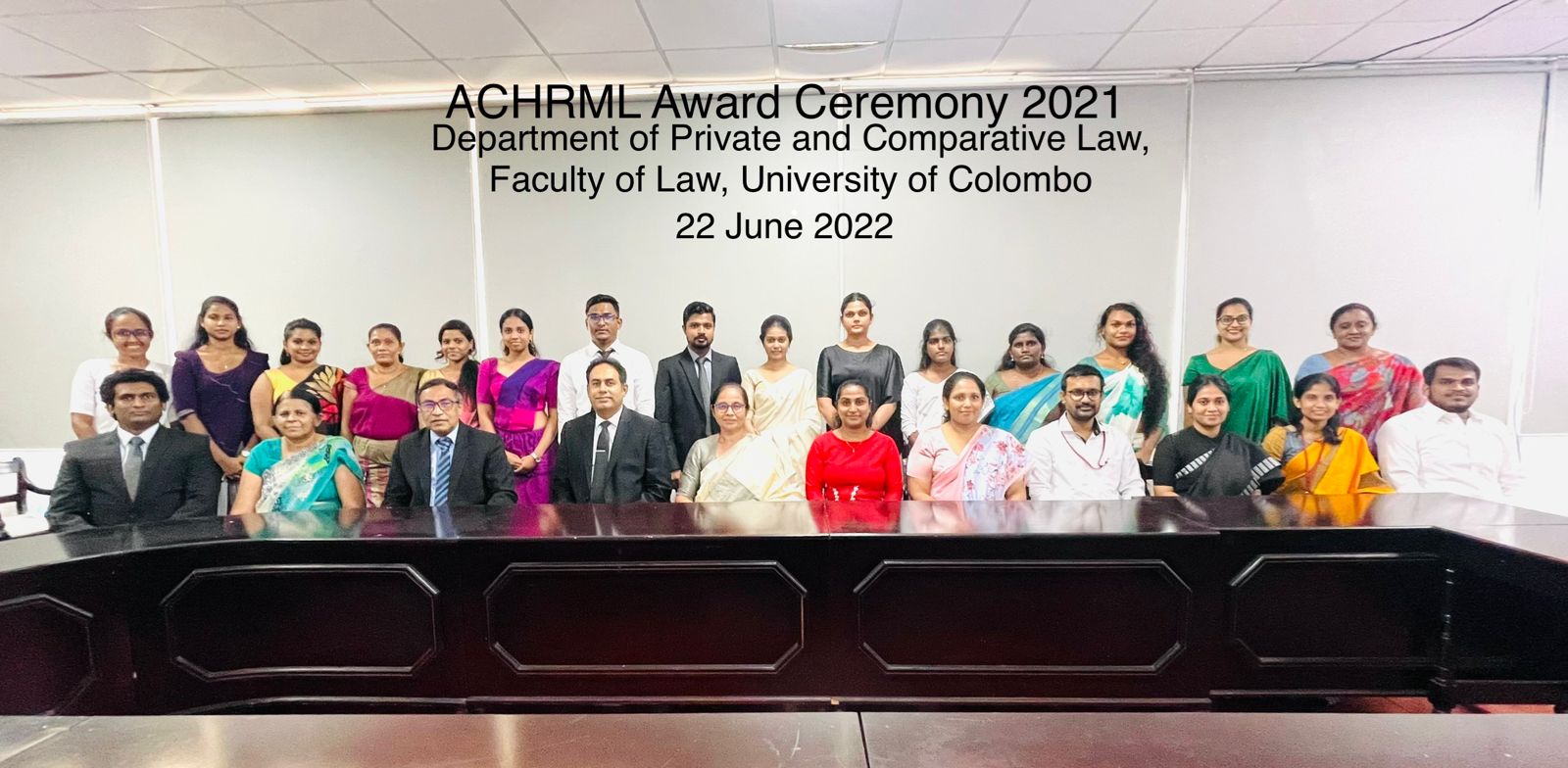 ACHRML Award Ceremony
The Faculty of Law Empowers Another Batch of Human Resources Managers: ACHRML Award Ceremony 2021
The Award Ceremony of the Advanced Certificate in Human Resource Management Law (ACHRML) for those who followed the course in 2021 was held at the Board Room of the Faculty of Law, University of Colombo under the auspices of three distinguished guests of honour, Prof. (Dr.) Sampath Punchihewa, Dean of the Faculty of Law, Dr. Udapadie Liyanage, Head of the Department of Private and Comparative Law, and Prof. A. Sarveswaran, Professor of Law, Department of Private and Comparative Law. Given the current situation of the country, this ceremony was held in a hybrid format with members of the academic and non-academic staff of the Faculty as well as the awardees joining the ceremony both online and on-site. Dr. Liyanage delivered the welcome address on behalf of the Department and Prof. Punchihewa expressed his views regarding the value of this course and its contribution to society. After a short video presentation regarding the course, Prof. Sarweswaran, one of the key architects behind the introduction and development of the ACHRML, spoke about the importance of Human Resource Management Law in overcoming the current and future challenges faced by Sri Lanka as a nation and also shared his personal experience of teaching the course during the past year.
The highlight of the ceremony was the awarding of certificates to the participants who successfully completed the course. In 2021, a total of 20 students completed the course with flying colours being awarded. Ms. E.M.Y.G. Ekanayake, the Coordinator of the ACHRML delivered the vote of thanks on behalf of the organizing committee. The ACHRML course team and the organizing committee were very pleased to have had the opportunity to organize this ceremony at a physical venue since it finally gave an opportunity for the students and staff involved in the course to interact with each other in person after months of online lectures. They made the most of this opportunity as the ceremony drew to a close with a friendly atmosphere where the participants got together for a group photograph and an informal chat.
The ACHRML programme introduced by the Department of Private and Comparative Law of the Faculty of Law, University of Colombo is the only one of its kind in Sri Lanka. The syllabus focuses on the rights and obligations of employers and employees, and the settlement of industrial disputes. It has been specifically designed to provide students with knowledge regarding the concepts, theories, and legal principles of Human Resource Management Law and to enhance their skills in solving complex problems in the field of Human Resource Management whilst stimulating a positive attitudinal change towards the promotion of justice and industrial peace.